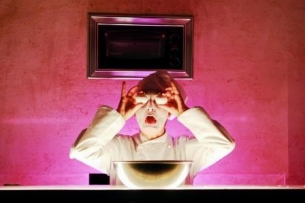 T.O. TIX
Le Temps des Muffins (The Time of the Muffins)


created by

Théâtre Magasin

presented by

Théâtre français de Toronto

Saturday, Apr 13, 2013 2:00 PM EDT 2013-04-13T14:00 (1:30 PM Doors)
Berkeley St. Theatre (Upstairs), Toronto, ON
16 years and over
Purchase Tickets
Tickets are now sold out through T.O.TIX. Check directly with the venue or producer for more information on availability.


Additional Information
"le Grand cuisinier : les oeufs ça peut faire un gâteau
les deux œufs : oooh !
le Grand cuisinier : comme ça peut faire un gâchis"
En confectionnant ses muffins, un cuisinier fait surgir des histoires, des images et des jeux. Dans sa cuisine, il donne vie à d'étonnants personnages tout en révélant ses petits secrets avec un savant mélange d'excentricité et de tendresse. Il cuisine les mots et s'amuse avec la nourriture comme ce n'est pas permis. Tel un magicien, il fait résonner les bols et danser la farine, tandis que des envolées musicales s'échappent du poste de radio ancestral.
Sautez sur l'occasion d'assister à la délicieuse performance d'un interprète dont la folie créatrice est contagieuse. Farfelu et touchant, ce spectacle allie marionnettes, théâtre d'objets et expérience sensible, alors que la recette des muffins est exécutée sur place avec de véritables ingrédients qui tombent littéralement du ciel, embaumant l'air d'un chaud parfum sucré. Cette pièce savoureuse titille l'esprit et se déguste jusqu'à la dernière miette.
This performance is in French
45 Minutes
This venue is not wheelchair accessible.
Available through T.O.TIX online or in person only - NO PHONE SALES.