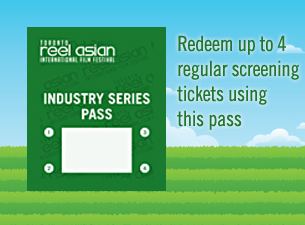 Toronto Reel Asian International Film Festival
Reel Asian 2012 Industry Series Pass
Wednesday, Nov 07, 2012 5:30 PM EST (5:20 PM Doors)
- Saturday, Nov 17, 2012 9:30 PM EST
*Venues Vary By Screening*, Toronto, ON

Purchase Tickets
Online purchases no longer available. Buy Industry Series Passes from the Future Day Sales Desk at Innis Town Hall (Nov 9 & 10) & The Royal (Nov 11-13).
Additional Information
The 7th edition of Reel Asian's Industry Series (Nov 7-11) is the premier training and networking destination for Asian Canadian filmmakers and producers. The Industry Series is generously supported by Lead Industry Series Sponsor Astral's Harold Greenberg Fund. Please read terms and conditions and our Industry Series Pass FAQs carefully.
Use your Industry Series Pass to:
Attend and network during all day Industry-designated sessions & events listed below
Redeem FOUR tickets to any screening (excluding Opening & Closing Night films)
Access the Festival Hub - Monarch Tavern (12 Clinton St., south of College)
Attend all of our Richmond Hill screenings (Nov. 16-17)
VENUES
Unless otherwise noted, all Industry Series events are open to Industry Pass and Festival Pass holders Nov. 7-11 during the Downtown Toronto portion of the festival at the Industry Series Hub: No One Writes To The Colonel (460 College St., at Bathurst).
PRE-REGISTRATION
The following events require pre-registration:
Scriptwriting Masterclass

|

WED NOV 7 | 11:00 AM - 12:00 PM | No One Writes To The Colonel - 460 College St.
Business & Legal 'FUN'damentals - THURS, NOV 8 | 12:30 PM - 1:30 PM | No One Writes To The Colonel - 460 College St.
Speed Dating | FRI, NOV 9 | 3:00 PM - 4:30 PM | No One Writes To The Colonel - 460 College St.
If you plan on applying to attend any of these sessions, please indicate this on the form that will come up when you purchase this item.
Speed Dating Mentors include:
Brad Horvath, Head of Acquisitions and Domestic Sales (Ouat Media)
Linda Fong, Independent Production Officer (TVO)
Magali Simard, Short Cuts Canada Programmer (TIFF)
Paritosh Mehta, Director, Independent Production Development (Rogers Media)
David Wu, Director (Cold Steel)
Patricia Lee, Manager of Development, TV Interactive (Corus Entertainment)
Frank Manzo, Account Manager, TV & Motion Picture Group (National Bank)
Polly Beel, Director of Kids & Family (Phase 4 Films)
Chi-hui Yang, Film Programmer
Anderson Le, Director of Programming (Hawaii International Film Festival)
Gary Chou, Executive Producer (Daylight Savings), General Manager (Union Square Ventures Network)
Nancy Yu, Publicity & Promotions (NYU Communications)
For full Industry Series schedule and details, visit reelasian.com. Contact Arthur Yeung, industry@reelasian.com for more information.

Processing your request, please wait....