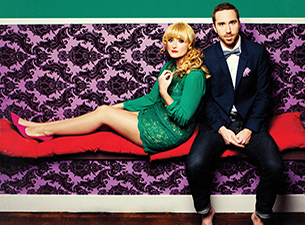 Shape of a Boy Productions
Peter Katz & Emma-Lee with special guests Ash & Bloom
Wednesday, Apr 03, 2013 8:00 PM EDT
The Casbah, Hamilton, ON
19 years and over
Purchase Tickets
We're sorry, there are no tickets currently available through TicketWeb.
Additional Information
About Peter Katz & Emma-Lee
You'd be hard-pressed to find a more talented pair than Toronto's Peter Katz and Emma-Lee. Both are singer/songwriters with many credits to their names- be it JUNO or Canadian Folk Music Awards nominations, multiple film & TV placements or sold-out shows, between the two of them, they've got it covered.
Though their musical genres vary slightly – Peter tends to fall more into the folk/roots category where Emma-Lee leans toward soulful alt-country – their audiences are familiar with both artists. Their collaborations began when Emma-Lee, already a fan of Peter Katz after discovering his music online, asked if Peter would sing on "Where You Want To Be", a track on her then-upcoming debut release, "Never Just A Dream" (2010). The two hit it off creatively and have been collaborating both on stage and in songwriting ever since. (Emma-Lee also appears on Peter's 2012 studio record, "Still Mind Still", singing on the hauntingly beautiful "It Was You".)
"You meet a lot of other artists on the road, and while most of them are great, sometimes you come across one with whom you share a certain kinship," says Peter. "Emma-Lee is just one of those people. She's a super creative, a fearless songwriter, and collaborating with her is great because neither of us will let the other give up on a good idea – we really hold each other to our best."
Recently, Peter and Emma-Lee got together at the Toronto Zoo to film and record their inspired banjo and guitar cover of Tina Turner's "What's Love Got To Do With It". The video is a glimpse into what audiences on Peter Katz and Emma-Lee's upcoming tour of western Canada and Ontario can expect to see and hear from the pair. Each artist will perform their own material, sometimes accompanied by the other, as well as some unexpected covers and originals, which they will perform together.
"Peter and I come from different musical backgrounds yet we have a common goal: to make music that moves people… whether that means to happiness or to tears. We are both very emotional writers and performers and when we come together it's a really beautiful blend of both of our strengths." says Emma-Lee.
Find us online
http://www.peterkatz.com
http://www.emma-lee.com
http://ashandbloom.com/
http://www.twitter.com/peterkatzmusic
http://www.twitter.com/emmadashlee
http://www.twitter.com/ashandbloom
Advance tickets $10 - $12 at the door
MUSIC WILL START AT 8:30pm


Processing your request, please wait....