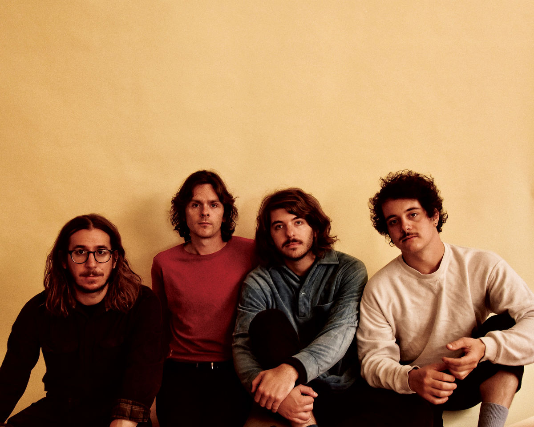 Fri Mar 27 2020
8:00 PM Doors
1882 Adanac Street
Vancouver, BC V5L 2E5
$17.50 plus fees
Ages 19+
Timbre Concerts presents The DIstricts with guests Glove.
For more info on
Timbre Concerts
and their upcoming concerts visit
www.timbreconcerts.com
.
www.timbreconcerts.com
The Districts,
Glove
"You Know I'm Not Going Anywhere is an unachievable promise," says The Districts bandleader Rob Grote. "It's about a dream for love to last forever and a yearning to postpone death. It is about wanting to escape everyday life while also craving time with one who's present. It's a plea to remain the same in the face of constant change, and the certainty of going nowhere fast." Written after playing nearly 200 shows over two years in support of their 2017 album, Popular Manipulations, The Districts' fourth full-length You Know I'm Not Going Anywhere almost never arrived.

As they began to contemplate a new album, Grote and his longtime bandmates Pat Cassidy (guitar), Connor Jacobus (bass), and Braden Lawrence (drums) faced a transitional period that was painful for both personal and professional reasons, and found themselves fatigued and disoriented as a group. Grote also felt dysphoric from the anxiety-provoking state of the world today, while facing a daily battle with the dire health problems of his beloved dog. The Districts were forced to rethink everything. "This album was written as an escape and as reassurance. I was falling in love with someone new and trying to juggle this desperate desire to escape with the need to show up in my life. It's pretty damn hard to be present and completely checked out all at once," Grote explains. "It felt like much of my world had reached such a pitch that all I could do was try to tune it out. I felt really uncertain about the future of the band and super detached from much of what I used to identify with, on a personal level and with our music. I was thinking, 'Do I want to keep doing music?' 'Do I want to keep doing it in this context?'"

Grote retreated to his bedroom and started writing with no objective other than to create. Free from expectations, and with an acoustic guitar, synthesizer, and drum machine at hand, he discovered a newfound creative freedom. "Originally, I had no intention of them even being a record. It was strictly a process of trying to connect to something outside of and larger than myself—kind of this rocky imbalance of isolating myself while trying to maintain connections as time rushed on. There was a lot of back and forth between working as a group and not feeling capable of doing that," reflects Grote. "I ended up taking these recordings super far along, whereas normally I would almost compulsively share them with my bandmates as soon as I had an idea. This time I was sitting on them and putting work into them in a way that I hadn't known I enjoyed doing."

He ended up with a batch of 32 songs; but, these songs didn't sound like 'The Districts.' Yet to his surprise, when Grote later played early demos for his bandmates, they loved them. Turns out these were Districts songs, and the Philadelphia-based band later decamped to a cabin in Red Hook, N.Y., where they recorded and produced the lion's share of the album themselves alongside frequent collaborator Keith Abrams.

While You Know I'm Not Going Anywhere builds on preceding albums, it takes an ambitious leap to a new level, exhibiting a widened sense of experimentation and expansiveness at its heart. There's Rhodes, Mellotron, strings, samples, drum machines, tape loops, Wurlitzer, "ambient swells," piano, synthesizers; Grote lists 12 instruments next to his name alone. Airy and understated, discordant and exuberant, and earnest all at once, You Know I'm Not Going Anywhere is the culmination of The Districts' growth and maturation through milestones and setbacks alike.

The haunting, atmospheric opener "My Only Ghost" is an ode to the secrets and memories we share with the ones we've lost; the rapturous, pulsating "Velour and Velcro" is a love song about the unknown future we're all riding into; and the stripped-back "Descend" deals with death and separation. The songwriting sees Grote drawing a sort of spiritual comfort from music and creativity as he worked. Despite the song's dark undertones, the 'nihilist disco' of "Cheap Regrets" finds The Districts as electrifying as ever. "The act of writing a song, trying to sculpt something out of the human experience, can feel quite vain. So do the extremes of American culture, which constantly reinforces the self. The mirror reconfirms you. It's all iPhones, selfies, and mirrors," says Grote. "This song is a criticism of the divisions that result from a self-oriented society and an attempt to transcend them, while simultaneously being an example of these very ideas. The song is the statue to the self; it is about itself."

Credit also to Dave Fridmann (The Flaming Lips, Spoon, MGMT), whose mix expertly layered all of the elements into a cohesive whole. That's most obvious in the subtle, synth-laden psychedelia of album standout "Hey Jo," which floats on plucked guitars and Grote's airy vocals before kicking into a rousing, Wall Of Sound chorus where he tunefully repeats "Fuck my head." The song nods to Grote favorites like Lee Hazlewood and Harry Nilsson. "All of their arrangements are surreal in a way that's not relying on normal psychedelic things," he says.

Pulling from the propulsive Popular Manipulations, the jagged indie rock of 2015's A Flourish and a Spoil, and the rootsy vibe of their 2012 debut, Telephone, the band here followed their creative instincts every step of the way, resulting in their most sophisticated and adventurous record to date. "I really just needed to be myself instead of being what someone else thought I should be, whether that was like some masculine bar-band singer or… I don't know," Grote says, laughing. "I just want to be myself, and I want to try and do that as best as I can. This record is paradoxically the most-Districts record ever with no intention of ever being one at all. It's about breaking free from how you're seen, always being yourself first and holding on to who you are—but also about coming together as a whole and putting your 'self' aside. Doing all that, I've realized, 'Oh, this is how I want to make music from now on!'"

Based in Tampa, Florida - Through their short-spanning career, Glove has managed to establish themselves as one of the most integral bands within the American music subculture due to their infectious and outrageously profound live performances. Inspired by the sounds of Devo, The Cars, New Order, and Gary Numan, members of Glove began writing music with a heavy emphasis on 70s synth and dance music that could be performed by a live band. "They once asked me to describe their sound, and I came up with 'New age tone zone of chrome.'" - Shaun Williams (The Nude Party). Now, after releasing their first two singles, Glove are currently recording their debut LP titled 'Boom Nights' with producer, Brad Shultz (Cage The Elephant).
www.timbreconcerts.com
The Districts,
Glove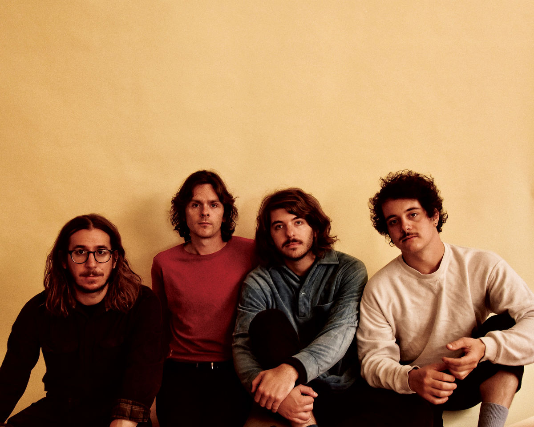 $17.50 plus fees
Ages 19+
Timbre Concerts presents The DIstricts with guests Glove.
For more info on
Timbre Concerts
and their upcoming concerts visit
www.timbreconcerts.com
.